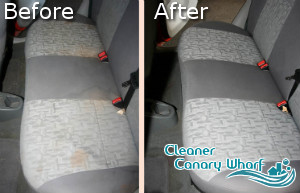 Your car upholstery is like every other upholstery out there – it needs cleaning and maintenance in order to stay fresh and presentable. If you need professional assistance with that, we recommend you book our car upholstery cleaning service in Canary Wharf E14. We are experts in cleaning, and our skilled cleaners and top-notch equipment and products will amaze you.
Reasons to hire our upholstery cleaning service
Our company is a pro in keeping car upholstery looking at its best. We use amazing tools and machines and we are very capable. We are trained to use every single tool we have and we know what we are doing. Our service is high-quality. Our prices are decent. It's best to call us to make an appointment. Dial our phone number now.
The best way to keep your car upholstery looking and smelling good is to use our cutting-edge car upholstery cleaning service in Canary Wharf, which will obtain delightful results on the first try.
Here is what we are going to do for you:
Give you a free price quote
Allow you to select a date for the service
Provide all the equipment needed
Clean your car upholstery with super powerful cleaning machines
Charge you fairly
Fill the form for a free quote!

Best car cleaning solution in Canary Wharf
Our cleaning system is effective because it involves the latest cleaning tools and techniques. We assure you we are capable of cleaning your car interior to a high standard. The first thing that we are going to use is our special cleaning products, which will help break up grime that's in your car. Our steam cleaning machines will help rinse that solution.
Car Interior Cleaning in E14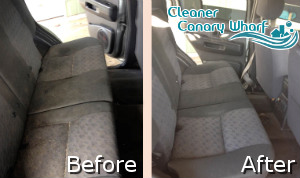 In addition, they will get rid of bacteria and dust. We'll go over each and every section in your car. We'll take our time. We promise to get as much dirt as we can out of your car seats. This is what we aspire.
We strongly recommend you use our car upholstery cleaning service at least once a year to help prevent build-up that's going to be difficult to remove later and, of course, keep your car upholstery looking nice. We are one phone call away, so do not waste time and order your car upholstery cleaning service in E14 Canary Wharf right away. Dial our contact number.